Why did the chicken cross the road?  Chances are, you have heard the riddle many times, perhaps with a few twists. The pun, published in 1847, continues to provide a quip of entertainment to people of all ages. The argument may be made the joke is amusing because humans encounter the same dilemma, do we really know which side of the road to walk?
More than 145 million adults walk for exercise, fun, relaxation, or as a means of transportation. People walk their dogs, children. They walk alone, with one another, and in groups.  According to the Center for Disease Control, 6 in 10 people cite walking as an essential activity to support a physically active lifestyle. Medical experts agree walking improves health. It lowers the risk of obesity, heart attack, stroke, diabetes, depression, and some cancers. With the numbers of pedestrians growing year over year, jurisdictions like Clarksville are working to grow and improve spaces to provide safe spaces to walk.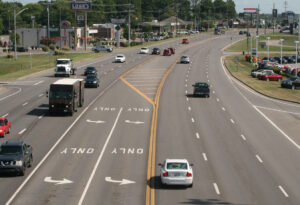 It may seem like a no brainer, to walk you simply put one foot in front of the other – right?  Not-so-fast! There are specific pedestrian laws and walking etiquette to consider before flat-footing it.
The safety aspect of any activity should be top of mind. Tennessee posted a 21% rise in pedestrian fatalities in 2019. A significant factor for the increase is distracted walking. People put themselves and others at risk when they walk and use their phones, eat, read, take pictures, or fail to pay attention to the immediate environment.  The Tennessee code includes a set of Pedestrian Laws to protect pedestrians. These laws deal with crossing signals, right-of-way, crosswalks, and yes – even the correct side of the road to choose when walking.
---
Sell Your House Fast | We Buy Houses
For a free, no-obligation consultation call: 615-669-1610, or Fill Out This Form For Your FAIR Offer
---
In Tennessee, and in fact, most of the country where sidewalks are accessible, it is unlawful to walk on the roadway. If there are no sidewalks, pedestrians should walk on the left side of the road facing traffic. A person walking on pavements should remain on the shoulder of the road, avoid the path of oncoming vehicles, and yield to oncoming traffic.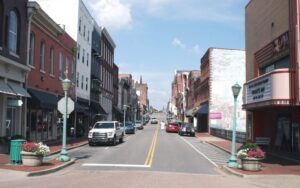 Walking on the wrong side of the road creates the opportunity for an ugly vehicle/pedestrian encounter (and for the record, the vehicle always wins). In congested urban areas, the chance of being trampled by a horde of rushing, pedestrian commuters while navigating the sidewalk system is equally dangerous.  Walking cities like New York often become so overcrowded with foot traffic; they experience rush hour periods of pedestrian gridlock.  The NYC average walking speed is 4.27 feet per second; savvy city-dwellers know where they are going and waste no time getting there.  A slow, indecisive walker becomes an accident waiting to happen. Laws and etiquette aside, common sense dictates when presented with a sidewalk situation involving crowds of people you go with the flow, move over for faster walkers, and walk with the direction of the masses. If crossing the street is necessary, merge carefully through the traffic and cross only at designated crosswalks.
It is a rare occasion that such clogged sidewalk conditions would occur in the city of Clarksville through plenty of residents and visitors enjoy our lovely sidewalk views. Clarksville boasts 21% of the city's streets have safe sidewalks for pedestrian use, and more projects to improve walkability are underway. The city offers pedestrians a variety of amenities to enjoy during any stroll about town.
Magnificent historic buildings are abundant around town, as are parks, museums, shops, antique malls, restaurants, cafes, breweries, and pubs. Regardless of the side of the street you choose, there are rules to remember.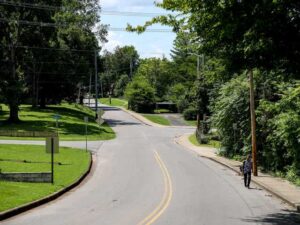 Stay on the sidewalk.
Pay attention to surroundings.
Avoid "clumping" (walking as a group blocking the sidewalk).
Keep animals on a leash.
Avoid swinging arms or bags around other pedestrians.
Do not stop in the bike path or crosswalk.
No jaywalking – cross at the signal when indicated.
Always yield the sidewalk to individuals with service animals, identifying canes, and wheelchairs (in Tennessee, it's the law).
Clarksville's four distinct seasons and moderate climate encourages people to get out and get moving year-round. You can hike the trails of Dunbar Cave State Park, attend a concert, art show, ice skating, or cool off by the splash pad at the Downtown Commons. The natural beauty of the Cumberland RiverWalk Promenade is a walker's paradise. Most popular Clarksville destinations maintain designated paved areas for pedestrian safety and enhanced delight.
Neighbors jogging, walking dogs, pushing baby carriages, and children on bikes are familiar sights along the many picturesque residential sections of Clarksville. City center streets such as Main Street, Franklin Street, and the Public Square lure folks in with open-air markets, art shows, and the tantalizing aromas of food vendors. Green spaces abound around town, and among the not-to-be-missed sights on any walking tour are historic Jefferson Street and the famous Starry Night Mural on Madison.
So which side of the street is "right?" As more and more people take to the sidewalks, it is important that all pedestrians act responsibly. Except for certain civic restrictions, the preference of left/right, north/south may be a personal distinction, but; a pedestrian's courtesy, good manners, and kindness always rule.
Sources
https://www.bloomberg.com/news/articles/2015-08-28/a-non-jerk-s-guide-to-sidewalk-etiquette
https://www.theleafchronicle.com/story/news/local/clarksville/2019/08/30/1-8-million-grant-will-help-connect-greenway-and-riverwalk/2163279001/
https://www.tn.gov/tdot/multimodal-transportation-resources/bicycle-and-pedestrian-program/tennesse-pedestrian-laws.htm
https://www.clarksvilleonline.com/tag/pedestrian-death/
https://www.ghsa.org/sites/default/files/2020-02/GHSA-Pedestrian-Spotlight-FINAL-rev2.pdf
https://www.nytimes.com/2016/07/01/nyregion/new-york-city-overcrowded-sidewalks.html
Image sources: Wikipedia, Clarksvillenow, Cityofclarksville, Theleafchronicle.
---
Sell Your House Fast | We Buy Houses
For a free, no-obligation consultation call: 615-669-1610, or Fill Out This Form For Your FAIR Offer